A video of former President Donald Trump "crashing" a wedding to briefly speak with the bride has gone viral on social media.
The video was shared on Twitter on Sunday by commentator Ron Filipkowski and has since been viewed more than 210,000 times.
It is not clear when or where the footage was filmed but some commentators have said it took place at Trump's Mar-a-Lago residence in Florida.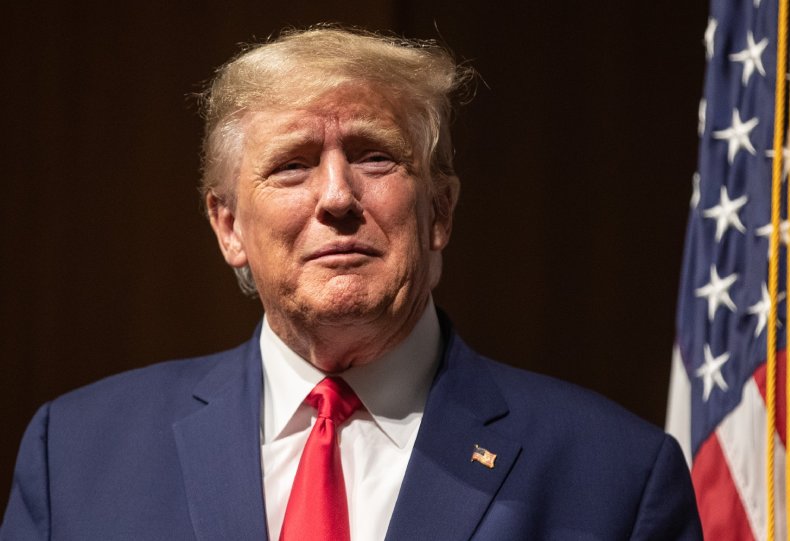 Filipkowski, who describes himself as a former Republican, referred to the former president in his caption as he wrote: "The DJ has arrived. You get to hear about rigged elections, World War III, and how everything is going to hell.
"In between a loop of 12 late-70s disco hits in the most romantic wedding eve."
Trump has been invited to weddings being held at his estates in the past and has even gone as far as to give speeches.
In March 2021, he spoke at a reception to toast a newly married couple but used the opportunity to air his own frustrations about his 2020 loss to Joe Biden.
The couple were identified as both being longtime friends and donors to Trump, Megan Noderer and John Arrigo.
In the new viral clip, Trump is seen briefly stopping to speak with the bride before walking off with an aide.
The person recording also comments about how excited he is about Trump's appearance. As Trump walks away, the bride and the woman standing next to her can be seen smiling as they watch the former president leave.
While some social media users joined Filipkowski in mocking Trump, others defended the president and said that if the ceremony was held at Mar-a-Lago, the bride and groom would likely have been fans of Trump.
Twitter user TheDalyPlanet defended Trump and tweeted: "This is his day job. He literally makes an appearance if you rent Mar-a-Lago for a wedding. Not kidding.
Another social media user sarcastically wrote: "Every brides dream to have to listen to rants from a grumpy old man followed by YMCA 20 times on their wedding night."
Another Twitter user commented: "Trump crashing another wedding."
Newsweek has contacted Donald Trump's office for comment.
Trump has previously made seemingly unscheduled appearances weddings, even interacting with the bride during the ceremony.
In July 2018, when he was president, Trump gave a bride a kiss on the cheek as wedding guests applauded at the wedding ceremony at his Trump National Golf Course in New Jersey.
A video of the event saw guests announce their surprise at Trump's appearance with some guests remarking they loved the president. While there, Trump also took pictures with guests as well as with the bride and groom.
A now discontinued brochure showing the New Jersey club suggested that Trump could make an appearance if a couple held their wedding at the property.
"If he is on-site for your big day, he will likely stop in & congratulate the happy couple. He may take some photos with you but we ask you and your guests to be respectful of his time & privacy," the brochure read.