Running for reelection in 2020, former President Donald Trump railed against an alleged liberal "ballot harvesting" campaign to cast doubt on the integrity of voting by mail and the veracity of a presidential election he claims to this day was rigged against him.
Nearly two years later, Trump—like many in the Republican Party—is beginning to sing a different tune about the practice.
In a fundraising email Monday, Trump told supporters his presidential campaign would be launching its own "BALLOT HARVESTING FUND" in states where Democrats had allegedly been "cheating the system," reflecting a growing conservative embrace of a system once maligned by those on the right after a string of losses in highly competitive statewide races.
The term "ballot harvesting" itself is an aphorism for activists traveling to legally register people to vote and provide them with the resources necessary to cast a vote by mail. In some cases, those ballots after being filled out were then picked up and mailed by someone else in an effort to ensure all—even those unable to deliver ballots themselves—were able to participate in the election.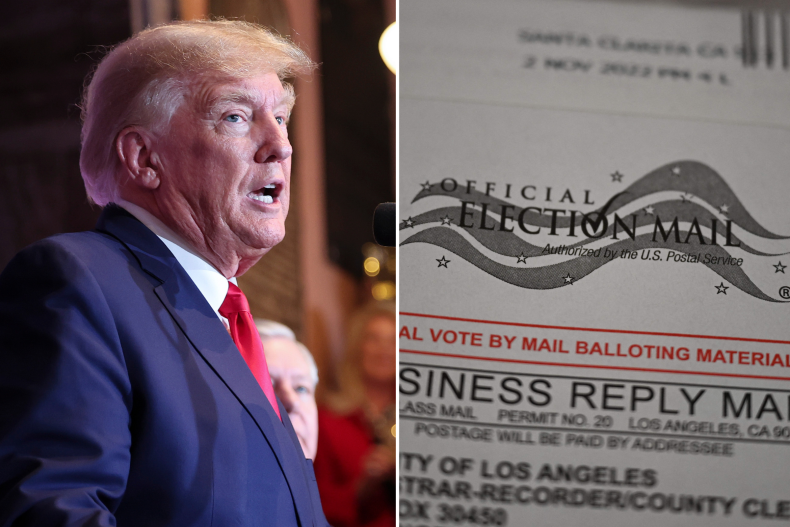 Republicans, however, have equated those efforts to a scam by Democrats to win elections—something Trump himself wants to begin doing.
"Instead of running on the issues, Democrats try to BUY, RIG, and LIE their way into power," read the emailed fundraising appeal—which guaranteed a 1,500 percent match to any funds raised.
"The Left spent $1 BILLION in 2020 to put Biden and Kamala in the White House," he added. "The FBI colluded with liberal tech corporations to suppress damaging stories about Biden. And I know I don't have to remind you about the many, many ballots 'harvested' by the Democrats… BUT NOT ANYMORE! Our path forward is to MASTER the Democrats' own game of harvesting ballots in every state we can."
Whether Trump means what he says is questionable: The select committee to investigate January 6, 2021, noted in its findings last year the Trump campaign allegedly raised $250 million for an election fraud defense fund that didn't exist, for example, while his fundraising is currently under scrutiny by the U.S. Department of Justice.
However, the statement appears to signal a broader shift in strategy among Republicans who suffered at the ballot box after their baseless assertions about election integrity appeared to turn off voters they needed to win.
After casting doubt on the integrity of voting by mail in 2020, Republican National Committee Chairwoman Ronna McDaniel has since embraced the practice, saying in a Fox News interview earlier this winter the party needed to begin engaging in the practice in an effort to compete.
"What we do need is our voters need to vote early," McDaniel said. "I have said this over and over again. There were many in 2020 saying, 'Don't vote by mail, don't vote early.' And we have to stop that."
Newsweek has contacted Trump's campaign for comment.