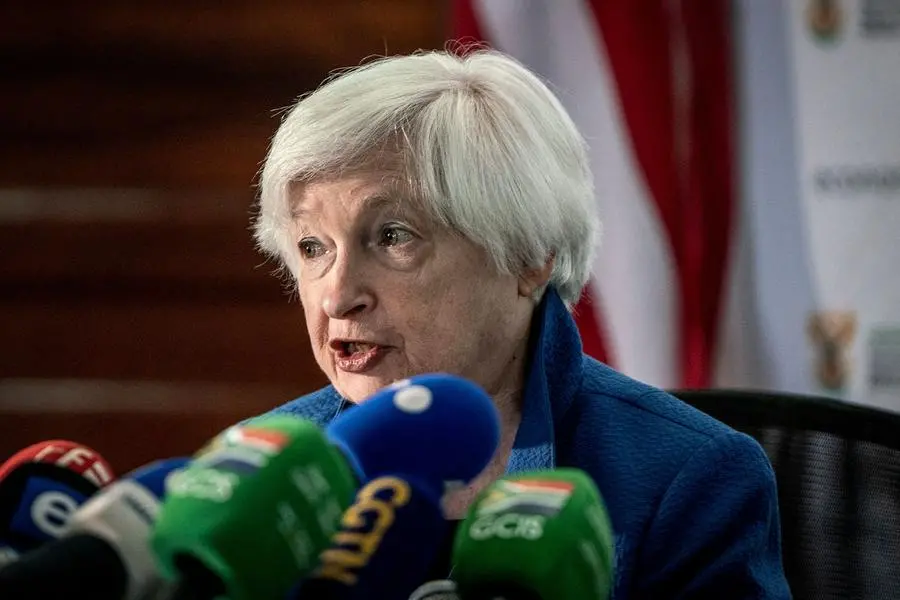 US Treasury Secretary Janet Yellen says her office and the European Union have been discussing a possible resolution to growing conflict over President Joe Biden's massive new green investment plan in a bid to allow European companies to qualify for inclusion, perhaps averting tit-for-tat subsidies or possible trade barriers.
That's good news – with the range of issues now facing Europe, the continent certainly doesn't need a trade war with the US.
The new American legislation has sent additional chills through a Europe already grappling with armed conflict and soaring energy prices. Termed the Inflation Reduction Act (IRA), the initiative offers generous support that could encourage major manufacturers to move production to the US.
European leaders are particularly concerned about clauses in the IRA on minerals, other raw materials and final assembly of electric vehicles that require them to be sourced and assembled in North America. For US consumers to qualify for a tax credit of up to $7,500 for the purchase of such electric cars and trucks, the law mandates that batteries in those vehicles must be made with minerals mined or recycled in North America or by a US trade bloc partner.
European business leaders say their companies could become collateral damage the aggressive US program mainly intended to compete with China, which now produces 78 percent battery cells globally and has three-quarters of the big plants that manufacture the lithium-ion batteries they use, according to a study by the Washington-based Brookings Institution.
French Economy Minister Bruno Le Maire and his German counterpart Robert Habeck are traveling to Washington this week to meet Treasury Secretary Yellen in a bid to resolve the impasse.
The EU has called on the US to provide European firms with exemptions like those granted in trade bloc partners Canada and Mexico. Yellen has mooted the possibility of "friend-shoring" – a happy-sounding term that actually harkens back to a Cold War-like atmosphere. A derivative of offshoring, which means moving work overseas, "friend-shoring" encourages companies to shift manufacturing away from some countries in favor of allies.
But attempts to find a sweeping resolution to ease concerns have so far failed to get a full pass for European companies. In talks this week, European trade representatives are expected to tell senior US officials not to try to actively poach green investment from Europe as they again raise concerns about subsidies.
After already securing some concessions – including a partial win on electric vehicles built outside North America if leased by US consumers – the Europeans are expected to press their case in face-to-face meetings, but will also try to maintain an atmosphere of collegiality.
The EU unveiled its response to the IRA, the Green Deal Industrial Plan, last week in an effort to boost development of the clean technology sector through its own massive investment aid and tax credits. If the European legislation passes and follows in the footsteps of the US, existing rules and the World Trade Organization (WTO) itself could become irrelevant.
"The big problem we have at the moment is that some of the instruments countries are using to fight climate change are contrary to the norms of international trade," says Arancha González Laya, former executive director of the International Trade Centre and former Spanish foreign affairs minister. "I am concerned that we are entering into a period where a new form of interdependence, which is climate change, will be tackled with purely nationalistic approaches."
The EU has threatened to take the US to the WTO over the IRA, saying it discriminates against European producers. Ngozi Okonjo-Iweala, a Nigerian economist and the current director-general of the WTO, is urging the two economically massive regions to settle their disagreement between themselves and not drag the organization into it.
As EU leaders discuss a response to the American law, experts urge the bloc to make sure policies meet international trade rules. "The EU response will be targeted exactly at not damaging the global trade system," says Simone Tagliapietra, a researcher at the Bruegel think-tank in Brussels.
Seven EU member states have even gone so far as telling Valdis Dombrovskis, vice president of the European Commission, that they oppose tax breaks designed to counter the US initiative.
The Czech Finance Ministry confirmed a report in the German press that finance ministers from Estonia, Finland, Austria, Ireland, the Czech Republic, Denmark and Slovakia have written to Dombrovskis saying that financial support to companies that reaches too far is "not justified by clear market failures" and could lead to a dangerous "subsidy race".
Czech Finance Minister Zbynek Stanjura said it would be wrong to "escalate a trade war with the United States".
"Introducing retaliatory protectionist measures will threaten the fiscal stability of EU countries and will lead to disruption of the internal market," Stanjura said on Twitter." We have to find with the US side a compromise solution that will maintain a fair competitive environment."
Some European think-tanks and industry groups now see the risk of an open trade war diminishing following coordinated discussions and a shared recognition that it would harm both sides.
All are no doubt hopeful that talks in Washington this week will help lift the specter of yet another existential threat in Europe. Perhaps wondering if a malediction has been levied, the continent has faced unprecedented weather events, a pandemic, soaring inflation and energy prices, and armed conflict.
Let's hope the erstwhile allies find a way to renew their friendship so Europe can find a springtime of calmer days.
Copyright © 2022 Khaleej Times. All Rights Reserved. Provided by SyndiGate Media Inc. (Syndigate.info).